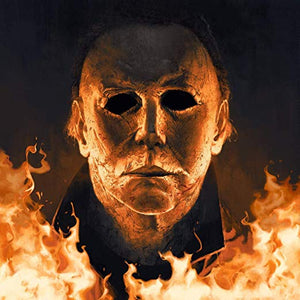 Halloween: Expanded Edition (PRE-ORDER)
The Crimson Screen Collectibles
Regular price $34.99 Sale
PRE-ORDER
SHIPPING: 10-18-2019
Limited double orange and black colored vinyl LP pressing in lenticular jacket. 2018's Halloween, directed by David Gordon Green, starring Jamie Lee Curtis, and with music by series creator John Carpenter (along with his son and godson, Cody Carpenter and Daniel Davies) was a critical and box-o ce smash. It grossed $159 million against a $10 million budget, becoming the most pro table Halloween movie since the 1978 original. The soundtrack album was a hit, too, debuting at #12 on the Billboard Albums chart and #2 on the vinyl chart, on it's way to becoming one of the most successful movie soundtracks of the last decade. One year later, Sacred Bones Records is pleased to present an expanded edition of the soundtrack, including more than 28 additional minutes of music from the lm and presenting a more complete, immersive listening experience.
Track Listings
 

5. Aaron and Dana Enter Laurie's Compound
 

12. Hawkins Arrives at Crash Site
 

14. The Story of Judith's Death
 

17. Gas Station Aftermath
 

21. Hawkins Called to Babysitter's House
 

22. Laurie Sees the Shape
 

27. The Shape Hunts Allyson
 

31. Halloween Theme (I've Got Eyes)
 

36. The Shape Attacks Laurie
 

37. The Shape Is Monumental
 

38. Searching for the Shape
 

41. The Shape and Laurie Fight
ALL PRE-ORDER SALES ARE FINAL; NO REFUNDS.
PRE-ORDERS PURCHASED WITH IN-STOCK ITEMS WILL BE HELD UNTIL THE ENTIRE ORDER IS IN STOCK.
WE SUGGEST PLACING A SEPARATE ORDER FOR ALL IN-STOCK ITEMS.