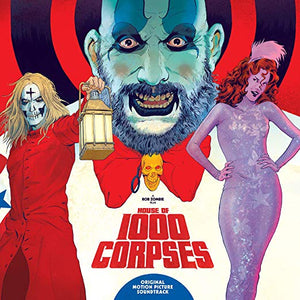 House Of 1000 Corpses original Soundtrack
The Crimson Screen Collectibles
Regular price $55.98 Sale
IN-STOCK!
Waxwork Records is proud to present Rob Zombie's HOUSE OF 1000 CORPSES Original Motion Picture Soundtrack. Available for the very first time on vinyl and spanning two 180 gram blood soaked vinyl discs, the music of HOUSE OF 1000 CORPSES features original score cues by Rob Zombie and soundtrack songs by The Ramones, Buck Owens, Slim Whitman, and more.HOUSE OF 1000 CORPSES is a 2003 American horror film written, co-scored, and directed by Rob Zombie in his directorial debut. The film stars Sid Haig, Bill Moseley, Sheri Moon, and Karen Black as members of the murderous Firefly family. The film explores multiple genres including horror and exploitation, and was initially shelved by the movie studio for it's graphic amounts of blood and gore, as well as scenes involving torture and necrophilia.Waxwork Records presents the complete film music to HOUSE OF 1000 CORPSES housed in deluxe packaging, 180 gram "blood soaked" vinyl, an exclusive essay by Rob Zombie, a 12 page 12"x12" booklet featuring previously unreleased behind-the-scenes photos, and new art by Robert Sammelin.
ALL PRE-ORDER SALES ARE FINAL; NO REFUNDS. 
SHIPPING AND RELEASE DATES ARE SUBJECT TO CHANGE. 
ALL PRE-ORDER ITEMS, WITH MULTIPLE ITEMS, WILL BE HELD UNTIL ORDER IS FULLY IN STOCK. 
PRE-ORDERS PURCHASED WITH IN STOCK ITEMS, WILL BE HELD UNTIL ALL ITEMS ARE IN STOCK.  WE SUGGEST PLACING A SEPERATE ORDER FOR IN STOCK ITEMS.